For several months I have been working on a new body of work called Tunnel Vision. The work will be composed of many images when it is complete. Instead of putting all of them up in one go, I decided to post them in installments to my blog. I figured it would be easier to digest five to ten images at a time rather than sixty to seventy. This post if the first installment, which is a series of photographs of Half Dome in Yosemite National Park. Before I get to the images, I will write briefly on project to bring you all up to speed.
Tunnel Vision is a body of work where I explore counter-culture ways to photograph Yosemite National Park. The name comes from the photograph by Ansel Adams that the depicts the Yosemite Valley from the famous Tunnel View lookout. I chose this name to poke fun that perspective that one must strive to photograph the park just like Ansel. The truth is there was only one Ansel Adams. We cannot all be Ansel, not to say that it is not a bad thing to strive for perfection. To each his own. I personally struggled with how to photograph the park during my time there. With such a famously photographed location, I felt that it had all been done before. I decided to adopt a new perspective and release myself from the box of sharp images and sunset/sunrise lighting. To start, the DSLR stayed in the motel room. I brought only film cameras into the park for making artwork. Not just any film cameras filled my bag along with numerous tasty snacks. I brought ones with the worst optics in my collection. To clarify, bad optics does not mean poorly exposed or composed images. It just meant that I did not care about corner to corner sharpness or even focus in some cases. The cameras I chose to use included a Holga (plastic toy camera), Brownie Hawkeye with a flipped lens, and a paper pinhole camera. With the equipment ready for capturing the light, I also had a small thought about the light itself. I decided to photograph the landscape at any time of day, disregarding the sun's position in the sky. With my little manifesto in mind, I set out each day to make photographs and build a new body of work.
I will list the camera and film used for each photograph below the images.
Half Dome – 35mm Pinhole Camera – Velvia 100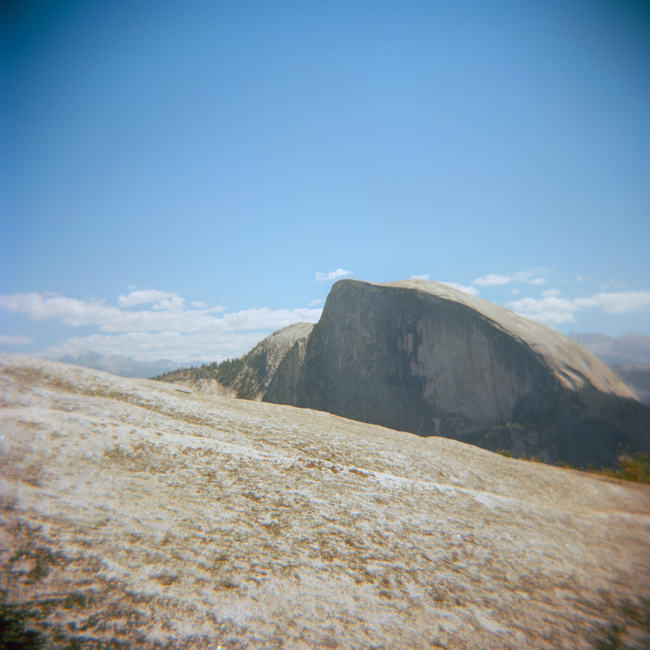 Half Dome – Holga – Ektar 100
Half Dome – Brownie Hawkeye – Pan F 50
Half Dome – Brownie Hawkeye – Velvia 50
Half Dome – Holga – Ektar 100
Half Dome – Holga – Tmax400
Half Dome – Holga – Portra160
Half Dome – Holga – Tmax400
Half Dome – Holga – Ektar100
I hope to prepare another installment of images in about a month or so. In the mean time, I am all ears for feedback. I invite you to leave me a message though my contact page or simply write me directly via email (ericbaileyphoto@gmail.com). Until then, please stay tuned for another series of photographs for Yosemite National Park.